An excerpt from the first chapter of this novel. A cop and a mobster find themselves thrown together in a life-or-death situation.
♦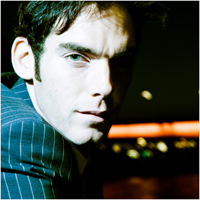 Angelo Trezini was slowing down, too cold and too dull to even think. Well, his only thought was a wistful wish for the energy necessary to feel sad or sorry or righteously pissed off. He was fading fast.
He was in a freezer. A large storage room of a freezer, packed high with cartons of food, and lit so brightly that Trezini was forced to squint. When his eyes were open, that is. Mostly he was just pacing in a circle, eyes shut tight against the harsh light and harsher cold, arms wrapped around his chest. He'd lost count of the number of times he'd walked this circle, but it was often enough that he didn't have to look where he was going anymore.
A muffled clang, and the door swung open. It all happened so fast, and Trezini was feeling so slow that he didn't have a chance to take advantage of the situation. As luck would have it, he was as far away as his circle took him – by the time he'd turned and drawn his gun, the door was already slamming shut again. And Trezini had company.
He was staring down his gun-barrel at a big dumb hunk of a man wearing a cop's uniform. A man who was so ridiculously handsome that Trezini almost forgot the cold for a moment. There was a stillness about the man, a sense that he was completely self-contained.
Continue reading excerpt: The Valley of the Shadow of Death →