An excerpt from the Prologue (New Orleans, October 1971) for this novel. Albert goes looking for sex.
♦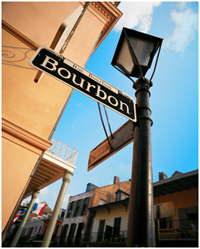 "You looking to party?" the young man asked.
When Albert drew off his dark glasses, his companion politely followed suit, tucking his own into the back pocket of his jeans. Albert considered the figure before him, stepping to one side for the full effect of the late-setting sun's illumination: male, of primarily Hispanic background; eighteen or perhaps nineteen, which was getting old to be on the game; one-seventy, an inch taller than Albert; light brown and dark brown. Further than that: undernourished, and had been for months if not years; clothes old and torn, though fairly clean and assembled with a harmony of color; eyes too bright; demeanor anxious, assessing. Some might have considered the haunted expression romantic, those who thought fey meant something more whimsical than the tragedy of 'fated to die'. But Albert was instead drawn by the spark of intelligent curiosity.
"If party is a euphemism for having sex," Albert said, "then, yes, I do want to. Frankly, I have no idea why else I'd be approaching you."
"Well, I don't do cops." Though he continued to hold Albert's gaze in what seemed a challenge, rather than turn away.
Continue reading excerpt one: The Definitive Albert J. Sterne →