An excerpt from the novel. Tom begins to explore Hilary's overgrown physic garden.
♦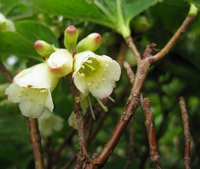 There was a stone terrace of sorts just outside the back door, with steps against the wall leading down to the left. Plants that probably should have remained shrubs had grown tall here, right up against the tower's feet, with gnarly branches looming aggressively towards the doorway, reaching even over Tom's head. Hilary had only ever ventured out here once before, and had very soon retreated back inside.
Tom, however, seemed undaunted. In fact, he seemed positively cheerful. "Well, this won't do, will it? I'm glad you said that about being ruthless, because this lot will have to go."
Hilary managed to say something fervent about his undying gratitude.
"In the meantime, I'm going to see how far I can work my way through from the bottom of the steps," he announced. "There might be a relatively open area in there."
"You'll be careful, won't you … ?" Though Hilary was at a loss to describe what he feared might happen. Perhaps he was imagining that Tom would get stuck as if in a briar patch, and Hilary wouldn't be able to follow him in and bring him back out again.
"Of course I'll be careful," Tom reassured him with a grin. "I'll start clearing a path, if it's any use, but what I'll definitely do is cut back some of those bushes right up against the paved area there. You should at least be able to see out!"
"Oh!" said Hilary, not knowing what he'd ever done to deserve this. It was true that the kitchen and living area at the back of the tower were rather dark rooms, even though they faced to the south; sometimes he didn't even bother drawing the curtains in the morning. The idea of getting some more light into his home was wonderful. "Thank you, Tom."
"Don't mention it!" Another wink as the young man reached the bottom of the steps – and then with a twist and a wriggle, Tom disappeared into the dark foliage.